SEDONA, ARIZONA
The Canyon Is Calling
Surrounded on all sides by acres of pristine wilderness,
Enchantment offers you the opportunity to connect to nature.
Out among the red rocks. In between groves of pinyon and ponderosa pines.
Under blue skies and blankets of stars. Here, time and its pressures melt away.
Casitas & Suites
Casitas
Our casitas feature Southwestern décor inspired by Sedona's iconic landscapes. All rooms feature a private deck or patio overlooking the red rock formations of Boynton Canyon.
Casitas & Suites
One Bedroom Suites
Our one-bedroom suites offer luxury, comfort and privacy. The spacious living room welcomes guests with wood beamed ceilings, sophisticated textiles, a pull-down queen bed and a beehive fireplace for a warm ambiance.
Casitas & Suites
Two Bedroom Suites
Our expansive two-bedroom suites are an ideal configuration for couples traveling together, groups of friends, or for families. The artfully arranged living room welcomes guests with wood beamed ceilings, sophisticated textiles and décor, and beehive fireplace for added ambiance. Off the living room, glass doors open on to a private deck.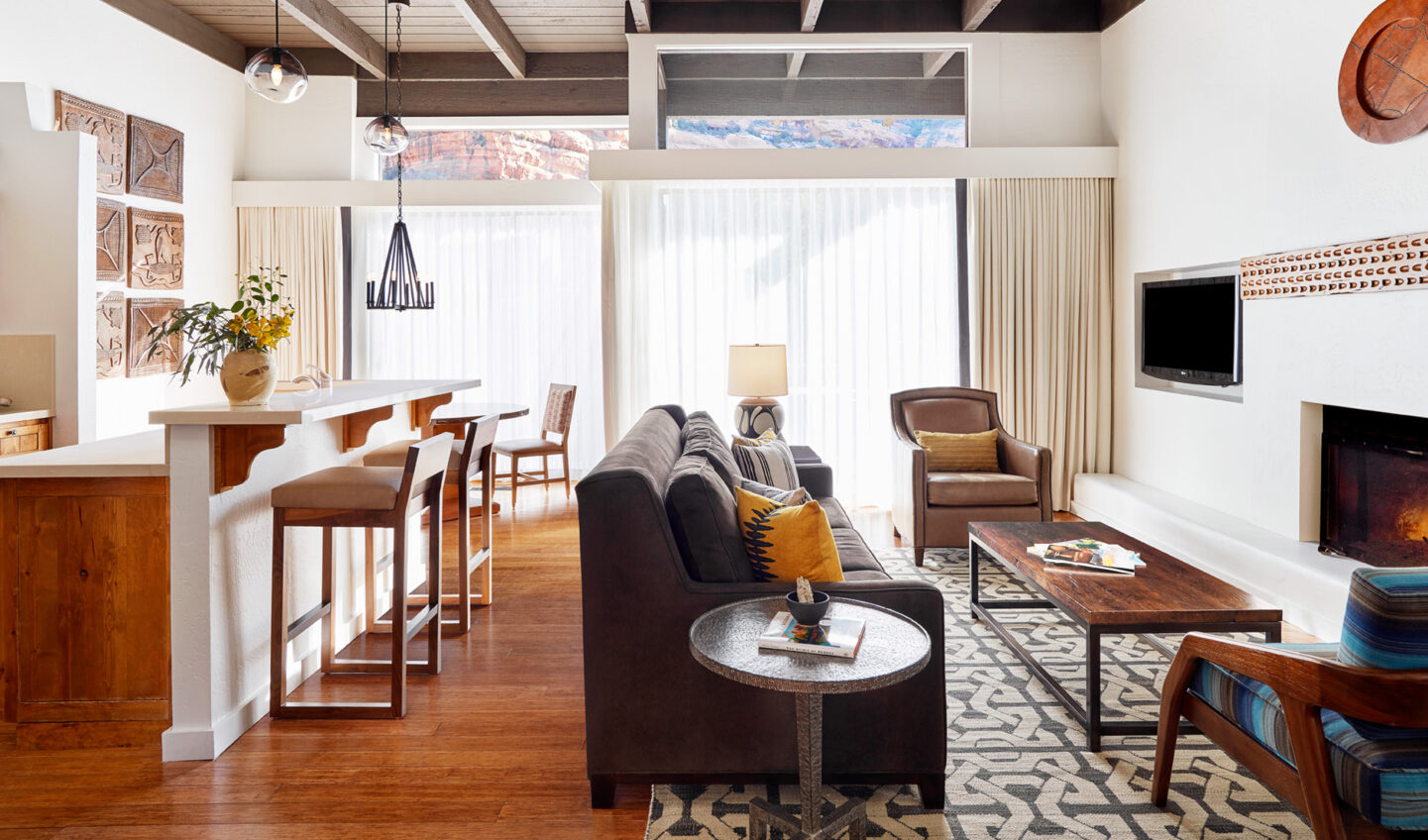 Casitas & Suites
Pool Suites
Enjoy pure luxury in one of the resort's Pool Suites or Spa Pool Suites. Each suite features spectacular views, a private pool, viewing deck and outdoor patio.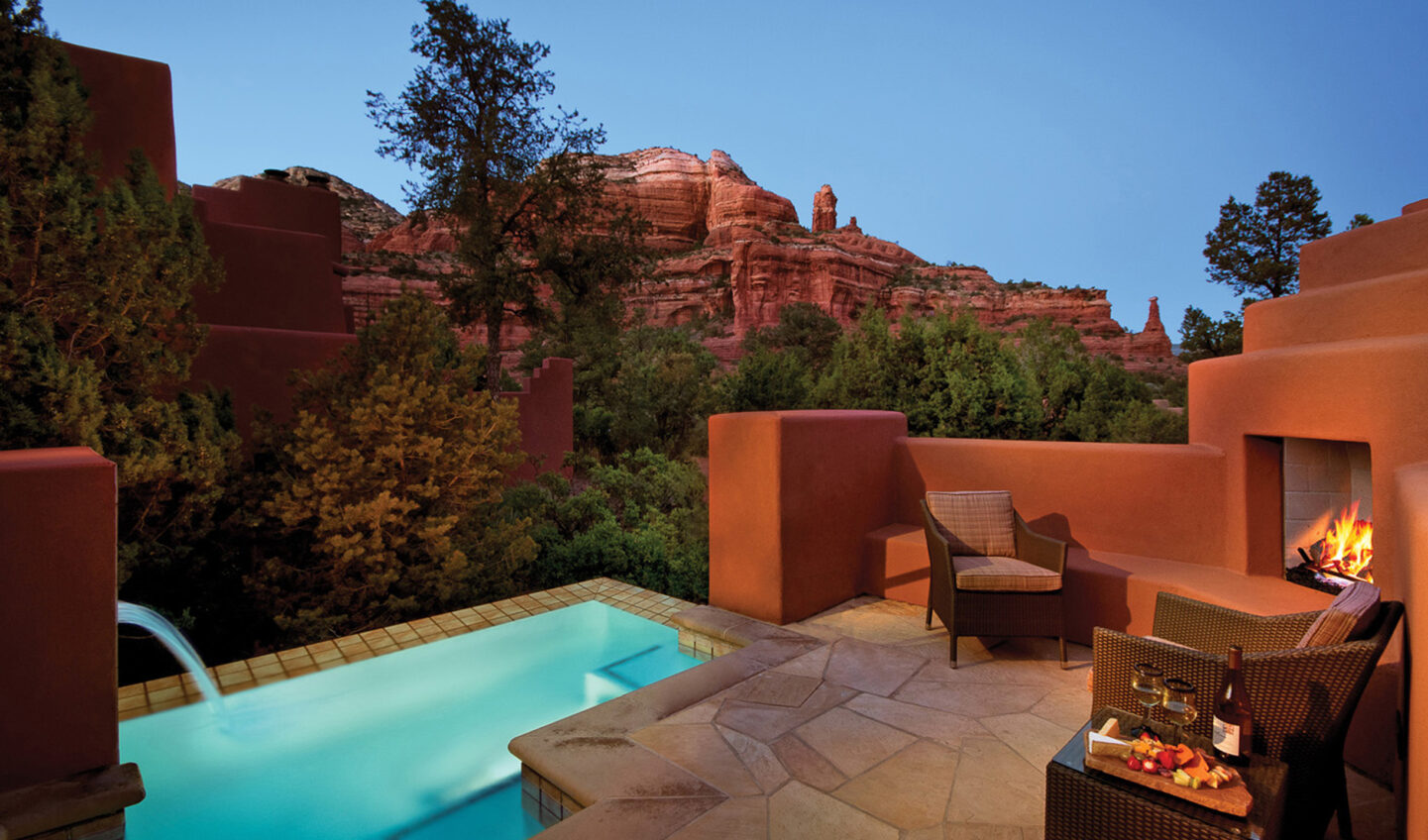 Trail House is the epicenter for active outdoor experiences. Stop in to learn about our vast array of hiking and mountain biking offerings. Visit the Trail House store for the latest in outdoor gear and apparel. Let our expert Adventure Advisors craft a menu of outdoor experiences tailored to your interests and fitness level. 
» Schedule an Adventure
Located steps from Enchantment Resort, guests have exclusive access to spa services at our sister property, Mii amo. Voted a top destination spa by Travel + Leisure and named to the 2023 IT List, Mii amo offers timeless and inspired spa services as well as a full array of fitness, yoga and wellbeing classes.
Dining at Enchantment
What Our Guests Are Saying
"We stayed at this gorgeous resort and enjoyed every minute we were there. The room had an excellent view, we were treated like royalty, the pools were amazing in the winter, and we enjoyed great food and drinks at the restaurants. Highly recommend this for a couple's retreat."

Navkiran D.

"This is a MUST stay in Sedona. The setting, restaurants, accommodations, and service are top notch. This was my second stay and I am certain there will be a third. Be sure to arrive before sunset to see the incredible views!"

Lisa S.

"Enchantment exceeded all expectations. We truly had the most amazing experience of our lives. We've traveled around the country and throughout many other parts of the world, but Sedona is earth's treasure and Enchantment is its crown jewel."

Sita D.

"This resort, nestled in gorgeous, magical Boynton Canyon, is exceptional. From the soaking tub and fireplace in my room to the beautiful hikes right from the property to the food, it was wonderful. But what really makes Enchantment great is the staff. I never stayed at a place where the entire team was more welcoming or more intuitive."

Lisa P.

"George at the Trail House is a gem. He taught us perfectly to make us feel that we could mountain bike without any problem. I was so glad I tried something I have never done before by learning from the best."

L. Rabin

"Great resort in the middle of the beautiful Red Rocks. Friendly staff, good food, cozy accommodations, and great location for hikes from the resort without driving anywhere."

Ilovetravel

"This is a very beautiful property in a hundred ways that you would expect and imagine just by looking at pictures. But the friendly, gracious, welcoming service I received at every step is what upgrades a nice vacation to a wonderful experience."

LDWSEA

"I enjoyed my stay a lot. The staff was amazing. I felt like I was part of the family. The casitas are beautiful and the location of the resort perfect. I loved all the activities - the guides were so forthcoming and knowledgeable. I will be back!"

Numor