Where All Trails Meet
Enchantment Resort is Sedona's premier resort for mountain biking, hiking and outdoor adventure. Trail House serves as an epicenter for all outdoor adventures, offering guided tours, professional-grade equipment rentals, and a retail shop featuring premium accessories and outdoor adventure apparel. To learn more or reserve your private guided ride or hike, please call our Adventure Advisors at 928.203.8407 or reserve your experience online.
Hiking
With access to over 400 miles of scenic trails, a visit to Trail House will help you choose which hiking trails are right for you. Explore the terrain and elevations of each trail with our Adventure Advisors to assist you in planning your red rock adventures. Offering self and expert guided hiking options, our Adventure Advisors can recommend specialty hikes based on your interests.
Mountain Biking
Whether you are a seasoned mountain biker or new to the riding, our Adventure Advisors can tailor a guided mountain bike excursion to fit your skill level. Trail House offers premium mountain bike rentals to explore on your own or with an expert guide.
Grand Canyon Adventures
Intimately experience the Grand Canyon on one of our new private tours, led by our expert Trail House guides. Tailored to your interests and fitness level, each Grand Canyon adventure includes breakfast and private guided tour along the South Rim.
Rock Climbing
Ascend to new heights with our new rock climbing adventures. From beginner to advanced levels, explore how rock climbing builds confidence while increasing strength and flexibility of both mind and body.
Retail Shop
Whether you are new to mountain biking, a novice hiker or more experienced in outdoor adventure sports, our expert guides will provide custom fittings and gear selections to make for a comfortable day on the trails. Our retail shop at Trail House features outdoor adventure apparel, technical gear, snacks and beverages to fuel your trek.
Bike Rentals
A fleet of premium mountain bikes are available to rent during daylight hours. An expert guide will fit you to the bike that is best suited for you and can recommend trails for every skill level.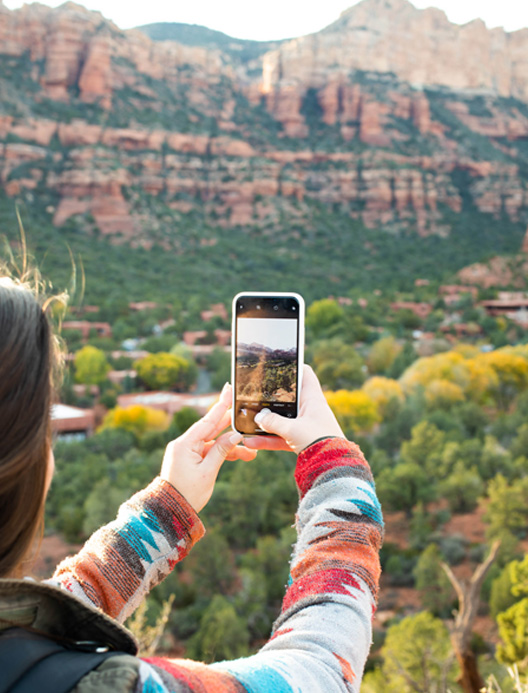 Red Rock Photography
Our expert photographers will lead you on an adventure in red rock photography. Capture special moments and explore the red rock landscape while learning how to adjust lighting and composition plus simple techniques to amplify dimension and control focus. Bring your camera or smartphone.
Expert Guides
With in-depth knowledge of the Sedona trail system and its terrain, our Trail House expert guides each bring a unique perspective and background to your red rock adventure. We invite you to get to know some of our guides and discover what makes them passionate about the Sedona area.